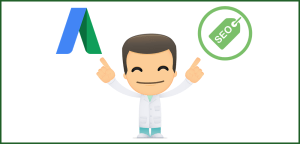 I get asked often, "If I'm already ranking well in Google organically (SEO), why should I also do Adwords?"
The 4 main reasons to rank well in Google AND advertise using Google Adwords are:
If you don't have placement in the ads at the top, you leave it wide open for your competitors to steal business from you. Even if you're ranked #1 in the organic listing.
With an ad there, even when people don't click, they still see it. Free advertising. And often click through rates are even higher for your organic listing because of it.
With Adwords, you have what I call, "destination control." You can send people to the specific page of your choosing, which means you can be very relevant to the search query and increase conversions.
More opportunities to find your business and click = More opportunities for high-value prospects to visit your website and become clients.
If you have questions on this or anything else about growing your business with strategic digital marketing, say hello on my contact page and let's setup a time to chat.
All the best in your business success,
Michael
I create digital marketing to generate new clients for local service professionals.
Latest posts by Michael Szapkiw (see all)